MGI ZIP Series Cooler and Storage Bag
MGI ZIP Series Cooler and Storage Bag
SKU: MGI ZIP Series Cooler and Storage Bag
Customer reviews:
Availability: In Stock (Usually ships in 1-3 business days). There may be slight delays due to COVID-19).
Shipping: Calculated at checkout
Product Description
Cooler and Storage Bag for the MGI ZIP Series
Made with premium quality fabrics including a large insulated main compartment and 2 valuables pockets, this cooler and storage bag uses premium zips to keep your gear cold, hot or dry during your round. Easily transition between car and course with the simple and intuitive clasp that connects the bag directly to any Zip Series model.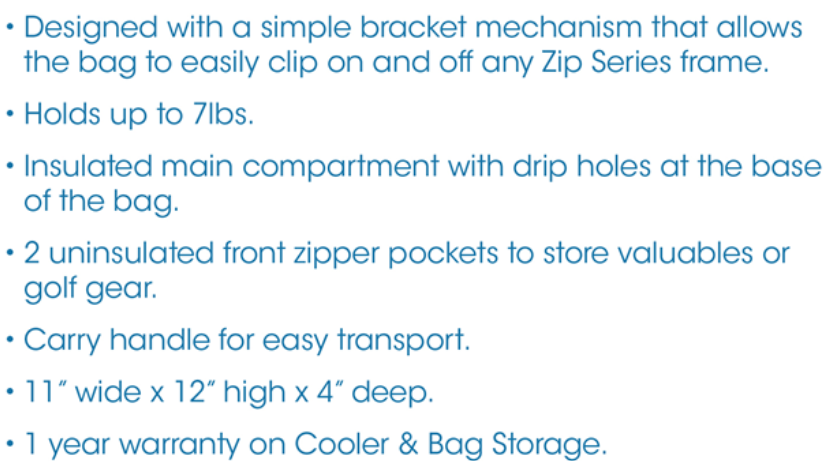 ---
Write your own product review
Product Reviews
delivered far more quickly...

Posted by Steven on 31st May 2022

Item was on back order. I was contacted and asked if I would like to cancel the order. Order was shipped and delivered far more quickly than expected. Excellent service!!

---

spendy, but...

Posted by Scott on 27th Jan 2021

First and foremost, the service provided by the good folks at motogolf.com was exceptional. I placed my order Monday afternoon and received it Wednesday morning. Prior to its having been shipped, I emailed a question to the sales staff. Literally less than 5 minutes after sending the email, a customer service rep called my home to answer my question.

Now, for the product review... This thing was pricey. Including shipping costs, I paid more than $90 for a cooler bag. The pricing was appropriately posted so I knew the cost before I hit the order button.

For that $90 I received a product that feels to be a solid, strong piece that I expect to get years of service from. The fit and finish are top notch. It mounted easily onto my cart and feels very secure when mounted. This is (in my opinion) the main reason for spending the extra $$$ and purchasing a model specific accessory as opposed to a generic item.

---
---