Powakaddy FX7 Lithium Electric Golf Cart with Optional Braking/GPS System
Powakaddy FX7 Lithium Electric Golf Cart with Optional Braking/GPS System
SKU: Powakaddy FX7 Lithium Electric Golf Cart with Optional Braking/GPS System
Customer reviews:
Availability: In stock (Usually ships in 1-2 business days). There may be slight delays due to Covid-19.
Shipping: Calculated at checkout
Product Description
PowaKaddy Freeway FX7 Lithium Electric Golf Caddy with Optional Electronic Braking System (EBS) & GPS - BUY FROM THE #1 TRUSTED Site for Remote/Non-Remote Control Electric Golf Caddies! (In Business since 2005). Call Us to Learn More about SPECIAL OFFERS! (702) 723-8348.
For a limited time, we are offering the Brand New PowaKaddy Freeway FX7 Lithium (Gun Metal Silver Color), Manually (Non Remote) Controlled Electric Golf Trolley, for $829.00, normally $1,299.00 (no GPS or EBS), and $999, normally $1,599.00 (with Electronic Braking System and GPS). We offer FREE SHIPPING (Savings of $60.00) to all U.S. customers (excluding AK and HI - we currently do not ship to AK and HI). Includes Battery and Charger (FX7 does not require an accessory station). SPECIAL PROMOTION: For orders placed on or before 10/9, we will also include two free accessories: Scorecard Holder, Umbrella Holder, Drink Holder, GPS Holder or FREE Travel Bag - (UP TO $70.00 Value - ABSOLUTELY FREE!!).

SPECIAL PROMOTION: TWO ACCESSORIES FREE - SCORECARD HOLDER,
UMBRELLA HOLDER, DRINK HOLDER, GPS HOLDER OR FREE TRAVEL BAG
(UP TO $70.00 Value - ABSOLUTELY FREE!!).




FX7 & FX7 EBS/GPS is in stock (Usually ships in 1-2 business days). Once it ships, you will receive the shipment tracking information via email. We only collect taxes from Nevada residents on the purchase of Powakaddy Golf Trolley.

KEY ADVANTAGES:
1. Light-Weight Frame (21 lbs)
2. Super Light Lithium Ion Battery (3.4 lbs)
3. Plug'n Play battery (No Wires)
4. Compact and Simple Three Step Fold System
5. USB Charging Socket
6. Automatic Distance Function (ADF)
7. Digital Power Gauge
8. Touchscreen Display
9. Additional Functions: Built-in Calorie Counter, Distant Measurement, etc.
10. Optional Built in GPS (Preloaded with over 40,000 Courses Worldwide) and EBS-Electronic Braking System
11. Optional 36 Hole Lithium Battery (4 lbs)
12. Height Adjustable Handle
13. UK Brand You Can Trust
14. 2-year Warranty for Trolley and 5 year Prorated for the Lithium Battery
15. Service Center Located in the U.S.

GOING PLACES. CUTTING EDGE DESIRE

The Brand New FX7 is the most intelligent trolley of its kind it has been re-engineered with an all new chassis designed to seamlessly integrate with improved technology, providing golfers with the ultimate electric trolley experience. Simplest ever 1-Click folding system in the FX Collection. The Brand New FX 7 folds 20% smaller than the previous PowaKaddy Freeway model. It also comes with a 2 Year peace of mind warranty. The FX7 is suited to the performance driven golfer.
Key Features of the new FX7
Stunning new 3.5" OCA full color widescreen display
New high power 30-volt speed controller system
New HET (Hall Effect Transducer) for greater downhill control (applies to optional EBS model)
New LCD backlight control system
New High-Power Plug 'n' Play™ 30v battery system
New battery top isolator switch with LED indicator
New Whisper quiet powerful 30v 230w motor
New Height adjustable soft touch handle
High performance low profile PowaFrame® Chassis
New Anti-Tamper Dial Control
Smartphone/GPS device USB Charging Port
ADF -Automatic Distance Function
Built-in calorie counter
Distance measurement function
2 year warranty on the trolley
5 Year Pro-Rata Warranty on Lithium Battery
Striking low profile metallic sports wheels Premium metallic frame color
Key Features of the FX7 GPS EBS (Optional)

Delivers fast, accurate distances to front, center, and back of the green.
Automatically locates your course
Auto advance from hole to hole
Preloaded with over 40,000 golf courses worldwide
Bluetooth Connected App for iOS and Android allows for quick golf course updates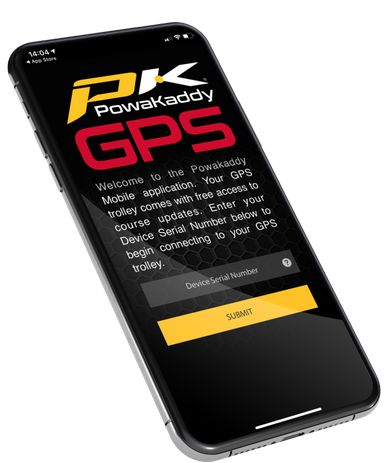 Weight & Folded Dimensions
Weight: 9.8kg (21.6 lbs) (without Battery - Battery weighs 3.4 lbs)
Height: 805mm (31.7")
Width: 560mm (22")
Depth: 346mm (13.6")
Motor: 30v 230w
Batteries
In normal conditions all batteries will do 18 holes when used on a PowaKaddy trolley. Conditions such as very long or exceptionally hilly courses, wet ground conditions, excessively heavy golf bags may reduce the range of the battery. Always recharge your battery regardless of the number of holes played. Please note that the Extended Lead-Acid battery is not available in the Plug'n'Play system.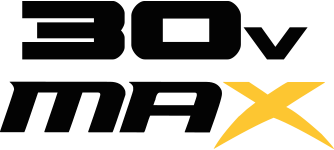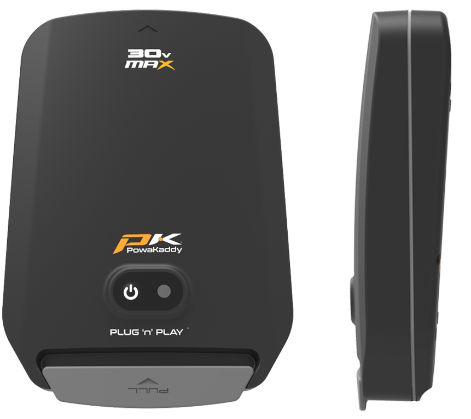 PowaKaddy's unique second-generation high-power 30v Plug 'n' Play™ Battery system is the thinnest, lightest and most powerful on the market. They eliminate the need for any fiddly connection wires which allows batteries to quickly slot into place and battery can remain in the trolley when folded down.
The re-engineered nickel cobalt manganese lithium battery technology delivers 20% more power through the high efficiency near silent drive train. Inside every lithium battery is an advanced Battery Management System (BMS) which protects the battery and trolley ensuring a longer life.
It features a new, top mounted, easy access on/off switch, a really clever and simple battery release latch and is an impressive 40% smaller than the previous model, while maintaining 100% of its capacity.
All PowaKaddy 18 hole Plug 'n' Play™ lithium batteries come with a 5-year full warranty.
18 Hole Plug n Play Battery:

Nominal Voltage: 29.6v
Capacity: 220WH
Size: 51 (2") x 231 (9") x 165 (6.5") (H/L/W)
Weight: 1.56Kg (3.4 lbs)
Construction: NCM Technology (Nickel Cobalt Manganese)
36 Hole Plug n Play Battery:
Nominal Voltage: 29.6v
Capacity: 260Wh
Size: 51 x 231 x 165 (H/L/W)
Weight: 1.85Kg (4 lbs)
Construction: NCM Technology (Nickel Cobalt Manganese)
Suitable for use with:
FX Range
CT Range
POWAKADDY COMPARISON CHART:


---
Details
Remote (R) / Non‐Remote (N):
(N)
Folded Dim L x W x H inches:
31.7" (L) x 22" (W) x 13.6 in (H)
Standard Battery Duration:
18 holes
Standard Battery Weight:
3.4 lbs (18 Hole Lithium Battery); 4 lbs (36 Hole Lithium Battery)
Battery Type:
Lithium Ion
Cart Limited Warranty:
2 years
Remote Capabilities (R, L, F, Reverse):
n/a
Available Accessories:
Umbrella, Umbrella Holder, Universal GPS Holder, Travel Cover, Wide Wheels, Winter Wheels, Rain Cover, Batteries and Chargers
Off Power Free wheeling Mode:
Y, disengage the wheels from the motor
Air Tires:
Optional air tires
---
Warranty Information
Any warranty covering products sold by Motogolf.com is the warranty provided by the manufacture/distributor of those products. We have provided their warranty information below for your convenience:

Motogolf Return Policy:
No cancellations on special order items once the order has been placed. For order cancellations prior to shipment, we will need to assess a handling & credit card processing fee of 3% which will be deducted from the refund.

Within 30 days of purchase, if a customer has a change of mind the cart can be returned only providing:

o The cart is completely unused and brand new

o It is in original packaging & new/unused condition

o The owner pays the return freight

o A return authority is obtained first from US distributor/manufacturer through Motogolf

o Original shipping fee + handling fee will be deducted from the refund (approx $120)

Within 30 days of purchase, the owners can return a "used cart." Even if used on driveways, backyard, etc... this is not considered new any longer and not saleable as new:

o A return authority is obtained first

o It is in the original packaging

o The owner pays the return freight

o Up to 30% restocking fee applies of the full retail price

The cart will be returned to Distributor/Manufacturer's warehouse and inspected by their personnel. Once we receive the return paperwork along with the condition of unit, we will issue a refund net of fees above.

PowaKaddy Product Warranty

The Powakaddy trolley & charger are covered by a 24 month warranty from the date of purchase. The warranty covers manufacturing defects that occur during normal use. Any breakage caused by accidental damage, or as a result of abuse or misuse, are not covered by the warranty. The warranty is not transferable and only covers purchases made in the continental United States.

The Powakaddy Lithium battery is covered by a 5 year pro-rated limited warranty. If the battery fails in the first 24 months it will be replaced free of charge. If the battery fails in the third year the customer will cover 50% of the replacement cost, if it fails in the fourth year 70% of the replacement cost and if it fails in the 5th year 85% of the replacement cost.

If your battery and charger pass our testing or if they have failed due to damage caused by use or abuse, the customer will be responsible for all shipping and handling chargers in the return of the product and there will be no warranty coverage.

All Powakaddy accessories are covered for 90 days from date of purchase.

Please retain your sales receipt or packing slip for proof of purchase. We will diagnose the problem and send the replacement part to the customer by FedEx ground or US Mail. Any parts replaced under the warranty, at no charge, do not carry a new warranty.

In the event the customer is unable to replace the part themselves, please retail all the original packaging material to return your trolley for repair. All trolleys must be returned in the original packaging. If you do not have the original packaging material Powakaddy can provide a new box at customers the expense.

In the event a replacement part is needed but not covered by the warranty the customer will be responsible for all costs.

What is the return policy at Powakaddy?
Product may be returned within 30 days of purchase for a full refund, less credit card fees and shipping and handling if the below criteria have been met:
Product must be in original package unused
Product is returned at customer's expense
Customer provides proof of purchase
If Powakaddy determines that the product has been used there will be an additional 25% restocking fee
Once the product has been returned to Powakaddy we will determine if the above criteria have been met. At that time a refund will be issued minus any fees incurred.
Powakaddy is not responsible for any damages to the product during return shipping.
Any product not offered by Powakaddy, and is special ordered, is not returnable.
No returns after 30 days of purchase

---
Write your own product review
Product Reviews
Easy to assemble.

Posted by Unknown on 3rd Jun 2022

Delivered on time. Easy to assemble.

---

My First Motorized Golf Push Cart

Posted by Alfred T on 1st May 2019

This is my first motorized golf push cart. Powakaddy FW7s is amazing. I like to walking playing golf, best impulsive buying I ever did. Easy to use i did some adjustment on the front tires coz its pulling left other than that the description online is accurate. Now I'm thinking of getting a remote control one that might more fun to use.

---

Loyal Customer

Posted by Yung on 21st Mar 2019

I owned a Powakaddy that lasted over 11 years and finally gave out the other day. I definitely got my money's worth. The durability and quality of this product is one of the best compared to some of my other fellow golfers who purchased other brands.

---

Freeway 7 Exceeds All of My Expectations!

Posted by Unknown on 28th Oct 2015

Motogolf

I purchased 2 Powakaddy Freeway 7 models for myself and my wife. Since that time we have had friends purchase 5 more, including 2 that were given as wedding presents. I play off a 2 handicap and love to walk so I was somewhat worried about using a Powakaddy as opposed to carrying my own bag.

Overall I would say that the Freeway 7 exceeds all of my expectations! The battery lasts for over 36 holes on our hilly Western Pennsylvania golf course that runs about 6,900 yards. Everything about the Freeway 7 has performed as promised.

If there is one complaint it would be that the instructions did not clearly state that the cart should never be dragged backwards (such as behind a full size golf cart). Our caddy master dragged ours out to the course from the caddy barn and we burnt out the control panels. Replacement parts were sent within 2 weeks and they now run good as new; and the club now knows to never drag the carts backwards.

I would and have recommended this product to many of the members of our club.

We noticed this summer while playing in Ireland that all the courses rent out the Freeway 5 as their upgrade to a regular trolley.

Sincerely

Michael Goldstein
Pittsburgh

---
---