Motocaddy M1 Lithium Electric Golf Caddy
Motocaddy M1 Lithium Electric Golf Caddy
SKU: M1 Lithium
Customer reviews:
Availability: M1 DHC is in Stock (Usually ships in 1-2 business days). Regular M1 is sold out (No ETA available at this time). There maybe slight delays due to Covid-19.
Shipping: Calculated at checkout
Product Description
Motocaddy M1 Pro Lithium Electric Golf Caddy Cart Trolley - BUY FROM THE #1 TRUSTED Site for Remote/Non-Remote Control Electric Golf Caddies! (In Business since 2005). Call Us to Learn More about SPECIAL OFFERS! (702) 723-8348.
For a limited time, we are offering the Brand New Motocaddy M1 Pro Lithium, Manually (Non-Remote) Controlled Electric Golf Trolley (ONLY available in black color), for $799.00 (MSRP - $1,249.00) and $849.00 (with Downhill Braking - DHC) with FREE SHIPPING to all U.S. customers (excluding AK and HI - we currently do not ship to AK and HI). Accessory Station, Battery and Charger are included. SPECIAL PROMOTION: For orders placed on or before 10/9, we will also include three bonus accessories (Pick 3 from the Following): Drink Holder (standard size), Scorecard Holder, Umbrella Holder, Device Cradle - (Over $100.00 Value - ABSOLUTELY FREE!!).

SPECIAL PROMOTION: (PICK 3 FREE) - DRINK HOLDER,
SCORECARD HOLDER, UMBRELLA HOLDER, DEVICE CRADLE

(OVER $100.00 VALUE - ABSOLUTELY FREE!!).


Motocaddy M1 DHC is in stock (Usually ships in 1-2 business days). Regular M1 is sold out (No ETA is available at this time). There may be slight delays due to Covid-19. (Once your order ships, you will receive the shipment tracking information via email. Please note: M1 is only available in black color.
KEY ADVANTAGES:
1. Very compact folded size (18.5 W x 16.1 H x 25.6 L inches)
2. Light-Weight Frame (22 lbs- No GPS/DHC; 25 lbs - GPS/DHC)
3. On Board Charging - No need to Remove Battery
4. Innovative Inverting Wheels
5. USB Charging Port
6. Height Adjustable Handle
7. Adjustable Distance Control (Up to 45 yards)
8. Powerful, whisper-quiet 230W motor
9. Down Hill Control Option with Parking Brake
10. EASILOCK™ compatible
11. Free Wheel Mode
12. Motocaddy - UK Brand Quality You Can Trust
13. 2-year warranty for Trolley and 5 year prorated for the lithium battery
14. Service Center Located in the U.S.

The all-new M1 electric trolley is the easiest-to-use compact trolley in the world and features a unique 'SlimFold' design with space-saving inverting wheels for a significantly reduced folded footprint (11% smaller than nearest competitor).
Standout features include a full colour LCD screen featuring nine speed settings and an advanced battery meter. It also boasts a soft-touch ergonomic handle, fully adjustable to a range of heights by hand; a whisper-quiet 230W motor; an integrated safety cut-out system; an auto-open stand mechanism; plus the exclusive Motocaddy EASILOCK™ bag-to-trolley connection system, which removes the need for a lower bag strap. A new style oversize frame completes the package, resulting in unprecedented handle stability.
IDEAL FOR : Space-conscious golfers looking for an easy-to-use, compact electric trolley
Starting in 2013, Motocaddy is offering a 5 year limited warranty on the lithium batteries. The first 2 years are covered in full if the battery fails. If the battery fails in the 3rd year, the customer pays 50% of the replacement cost. In the fourth and fifth year, customers are responsible for 70% and 85%, respectively. The Motocaddy Carts come with a 2 year warranty.
We only collect taxes from Nevada residents on the purchase of Motocaddy S3 Electric Golf Trolley and your order usually ships within 1-2 business days of receipt of payment.
Brand New M1 FEATURES

World's simplest folding compact trolley

Optimal folded footprint - 11% smaller*

SlimFold car boot friendly profile

Next generation, High Power 28V system

Full colour LCD screen

Nine speed settings

Speed indicator & Battery meter

Super-light Lithium battery - 33% smaller*
On board charging - no need to remove battery

Oversize tubing for ultimate handle stability

Innovative inverting wheels

Convenient auto-open stand

Simple, fully-adjustable handle height

Powerful, whisper-quiet 230W motor

EASILOCK™ compatible
Motocaddy Carts come with a 2 year warranty.

Lithium Batteries come with a prorated 5 year warranty.
*compared to nearest competitor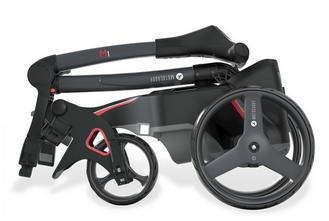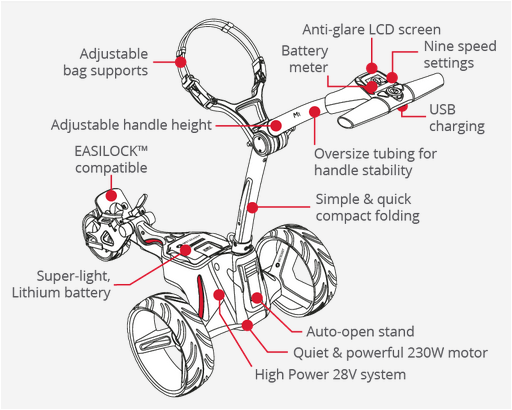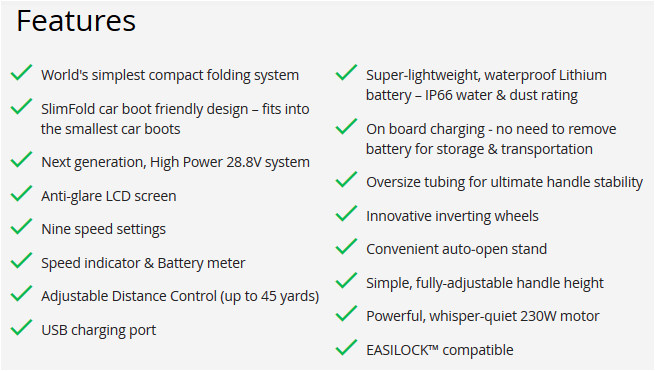 MOTOCADDY COMPARISON CHART:

* For M7 and M5 (Display size could vary between 2.8-3.5" based on availability from the manufacture)
---
2019 Motocaddy M1 DHC, M3 & M5 CONNECT TEST:
2018-19 Motocaddy vs. Powakaddy vs. Stewart Review Video:
Motocaddy Accessory Set Up Video:
Motocaddy Accessory Set Up Video 2:
Motocaddy Accessory Set Up Video 3:
---
Details
Remote (R) / Non-Remote (N):
(N)
Standard Battery Duration:
18 Holes
Standard Battery Weight:
5 lbs
Cart Limited Warranty:
2 years
Battery Warranty :
5 years prorated
Remote Capabilities (R, L, F, Reverse):
n/a
Available Accessories:
Wheel covers, Drink holder, Scorecard holder, Umbrella holder, GPS cradle, Travel cover, Rain cover, Auto‐open umbrella, Caddy rack, Winter wheels, Deluxe Seat
Off Power Free wheeling Mode:
Y, release tires from motor
Available Colors:
Black/Graphite
Folded Dimensions:
18.5 W x 16.1 H x 25.6 L inches (Max Height of 39.5" Unfolded)
Caddy Weight:
22 lbs- No GPS/DHC; 25 lbs - GPS/DHC
Package Box Dimensions:
Approx. 35x17.5x17 inches
---
Warranty Information
Any warranty covering products sold by Motogolf.com is the warranty provided by the manufacture/distributor of those products. We have provided their warranty information below for your convenience:

Motogolf Return Policy:
No cancellations on special order items once the order has been placed. For order cancellations prior to shipment, we will need to assess a handling & credit card processing fee of 3% which will be deducted from the refund.

Within 30 days of purchase, if a customer has a change of mind the cart can be returned only providing:

o The cart is completely unused and brand new

o It is in original packaging & new/unused condition

o The owner pays the return freight

o A return authority is obtained first from US distributor/manufacturer through Motogolf

o Original shipping fee + handling fee will be deducted from the refund (approx $120)

Within 30 days of purchase, the owners can return a "used cart." Even if used on driveways, backyard, etc... this is not considered new any longer and not saleable as new:

o A return authority is obtained first

o It is in the original packaging

o The owner pays the return freight

o Up to 30% restocking fee applies of the full retail price

The cart will be returned to Distributor/Manufacturer's warehouse and inspected by their personnel. Once we receive the return paperwork along with the condition of unit, we will issue a refund net of fees above.
Motocaddy Product Warranty

The Motocaddy trolley & charger are covered by a 24 month warranty from the date of purchase. The warranty covers manufacturing defects that occur during normal use. Any breakage caused by accidental damage, or as a result of abuse or misuse, are not covered by the warranty. The warranty is not transferable and only covers purchases made in the continental United States.

The Motocaddy Lithium battery is covered by a 5 year pro-rated limited warranty. If the battery fails in the first 24 months it will be replaced free of charge. If the battery fails in the third year the customer will cover 50% of the replacement cost, if it fails in the fourth year 70% of the replacement cost and if it fails in the 5th year 85% of the replacement cost.

If your battery and charger pass our testing or if they have failed due to damage caused by use or abuse, the customer will be responsible for all shipping and handling chargers in the return of the product and there will be no warranty coverage.

All Motocaddy Lead Acid batteries are covered by a six month warranty from the date of purchase.

All Motocaddy accessories are covered for 90 days from date of purchase.

Please retain your sales receipt or packing slip for proof of purchase. We will diagnose the problem and send the replacement part to the customer by FedEx ground or US Mail. Any parts replaced under the warranty, at no charge, do not carry a new warranty.

In the event the customer is unable to replace the part themselves, please retail all the original packaging material to return your trolley for repair. All trolleys must be returned in the original packaging. If you do not have the original packaging material Motocaddy can provide a new box at the customers expense.

In the event a replacement part is needed but not covered by the warranty the customer will be responsible for all costs.

What is the return policy at Motocaddy?
Product may be returned within 30 days of purchase for a full refund, less credit card fees and shipping and handling if the below criteria have been met:
Product must be in original package unused
Product is returned at customer's expense
Customer provides proof of purchase
If Motocaddy determines that the product has been used there will be an additional 25% restocking fee
Once the product has been returned to Motocaddy we will determine if the above criteria have been met. At that time a refund will be issued minus any fees incurred.
Motocaddy is not responsible for any damages to the product during return shipping.
Any product not offered by Motocaddy, and is special ordered, is not returnable.
No returns after 30 days of purchase
---
Write your own product review
Product Reviews
Seamless…quick delivery...

Posted by Unknown on 7th Jun 2022

Seamless…quick delivery. Love my electric golf trolley!

---

hard-working and faithful...

Posted by Rich H - Denver Colorado on 31st May 2022

My Motocaddy M1 (with the 18-hole lithium battery) which I bought 7 years ago was hard-working and faithful. I described it to my friends as "the best machine I have ever owned." After probably about 1,000 rounds, the battery and the charger both died. I purchased both, they were in stock and both arrived within the promised time frame. And now I am back up and running. Thanks so much.

---

Good communication, good advice.

Posted by Ty on 1st May 2019

Good communication, good advice.

---

Love it

Posted by John - California on 20th Mar 2019

I bought the Motocaddy M1 from Motogolf about 3 weeks ago and finally had a chance to try it out. I've never used an electric caddie before but it was very easy to get used to. You basically push the go button and follow the caddy. Push the stop button when I get to my ball and then manually turn the caddie as i did before on my push cart. Using the electric caddie gave me extra energy on the back nine. I wasn't even tired when I finished the round. This is a huge game changer for me as I like to walk so I can get exercise. Now I can get exercise without sacrificing my golf game. Thanks Motocaddy!

---

Quality of Materials and Workmanship is Excellent...

Posted by Unknown on 30th Oct 2015

I love my Motocaddy M1 Pro. It transports and folds easily. It is wonderful that I can still use my own golf bag and not purchase another. The power is consistant and goes up hills without any problem. Before purchasing this cart, I reviewed many other motor caddies. Other cart reviews were sometimes negative due to the quality of materials (i. e. rusting parts). This is definitely not an issue with this cart. The quality of materials and workmanship is excellent. Customer service was excellent. I do not recommend the overpriced drink holder. It is too small. Instead I use a side pocket in my golf bag to hold my Camel water bottle.

BABS


---
---