Motocaddy M5 GPS DHC Lithium Electric Golf Caddy
Motocaddy M5 GPS DHC Lithium Electric Golf Caddy
SKU: M5 GPS DHC
Customer reviews:
Availability: In Stock (Usually ships in 1-2 business days). There may be slight delays due to COVID-19). M5 is only available in black color.
Shipping: Calculated at checkout
Product Description
Motocaddy M5 GPS DHC Connect Lithium Electric Golf Caddy Cart Trolley - BUY FROM THE #1 TRUSTED Site for Remote/Non-Remote Control Electric Golf Caddies! (In Business since 2005). Call Us to Learn More about SPECIAL OFFERS! (702) 723-8348.
PLEASE USE THE SPECIAL HOLIDAY SALE PROMO CODE motocaddy50 FOR $50 OFF THE M5 GPS DHC w/ 36 Hole LITHIUM BATTERY!! (Ends 12/4). For a limited time, we are offering the Brand New Motocaddy M5 GPS DHC (Down Hill Control) Lithium, Manually (Non-Remote) Controlled Electric Golf Trolley, $1,349.00 (black color only) with FREE SHIPPING to all U.S. customers (excluding AK and HI - we currently do not ship to AK and HI). Accessory Station, Battery and charger are included. SPECIAL PROMOTION: For orders placed on or before 12/4, we will also include 3 FREE Accessories (Pick 3 from the Following): Drink Holder (standard size), Scorecard Holder, Device Cradle , Umbrella Holder - (UP TO $100.00 Value -ABSOLUTELY FREE!!).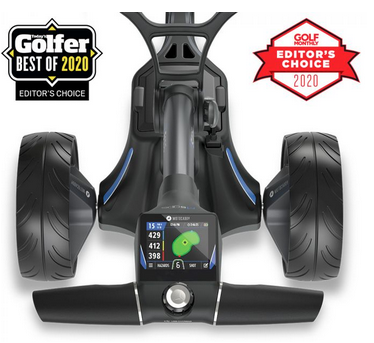 SPECIAL PROMOTION: (PICK 3 FREE): DRINK HOLDER, SCORECARD
HOLDER, DEVICE CRADLE, UMBRELLA HOLDER (UP TO $100.00
VALUE - ABSOLUTELY FREE!!).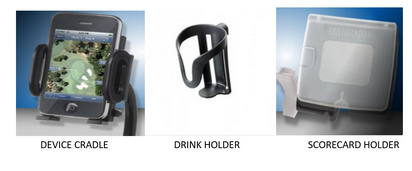 KEY ADVANTAGES:
1. Light-Weight Frame (25 lbs)
2. App Driven GPS & Smartphone Notifications
3. Yardages for 40,000+ courses - no subscription fee*
4. Touchscreen Display
5. Clock, Shot Measuerment & Roundtimer*
6. Adjustable Distance Control (Up to 60 Yards)
7. USB Charging Port
8. Whisper Quiet Single 230W Motor
9. Free Wheel Mode
10. QUIKFOLD Mechanism - fold in 5 seconds
11. SlimFold with Invertable Wheels
12. Sunlight Friendly Digital Display
13. Distance Measurements (Drive, Round, Life)
14. EASILOCK compatible
15. Height Adjustable Handle
16. Motocaddy - UK Brand Quality You Can Trust
17. 2-year Warranty for Trolley and 5 Year Prorated for Lithium Battery
18. Service Center Located in the U.S.
*compatible smartphone with free Motocaddy app required
Motocaddy M5 GPS DHC is in stock (Usually ships in 1-2 business days). There may be slight delays due to Covid-19. We only collect tax from NV residents.

The world's first trolley to offer fully‑integrated GPS built into a super-responsive 3.5" touchscreen display. Boasting 40,000 pre‑loaded courses with pin-point accuracy, it can also connect to the Motocaddy GPS app for smartphone alerts and offers built-in WiFi for instant Over‑the‑Air course and system updates.
The newest addition to the revolutionary CONNECT range, the compact-folding M5 GPS DHC can be linked to the fully-featured Motocaddy GPS app via a Bluetooth® connection on any compatible smartphone; allowing the trolley's digital display to be used in place of a conventional GPS, offering front, middle and back distances to the green along with par of the hole and clock. It also features a round timer plus shot measurement - both fully controllable from the trolley handle.
Stay connected while you play
Boasting 40,000 pre-loaded courses with distances to the front, middle and back of the green, plus hazards, the M5 GPS offers the ability to move the flag position for more accurate shot preparation. Packed with features, the high resolution touchscreen display also includes a Clock, Round timer and Score tracking, plus the par and stroke index of each hole, shot distance measurement, automatic hole advancement and a battery meter.
The M5 GPS can also be connected via Bluetooth to the free Motocaddy GPS app to offer a wide-range of smartphone notifications including missed calls, texts, emails and range of app alerts, including WhatsApp and Facebook. In another industry first, the trolley also offers built-in WiFi for super-quick Over‑the‑Air course and system updates.
Modern look, wide-ranging features
In addition to the innovative Smart technology, the M5 GPS DHC includes the modern look and features found on the latest M-Series models including a 'next-generation' 28V high power system ; a soft-touch ergonomic handle, fully adjustable to a range of heights by hand; a whisper-quiet 230W motor; an integrated safety cut-out system; an auto-open stand mechanism; plus the exclusive Motocaddy EASILOCK™ bag-to-trolley connection system, which removes the need for a lower bag strap. It also features a new style oversize frame to offer unprecedented handle stability.
IDEAL FOR : Golfers looking for a compact trolley packed with smart technology
The Motocaddy app is free to download from the Apple App Store and on Google Play.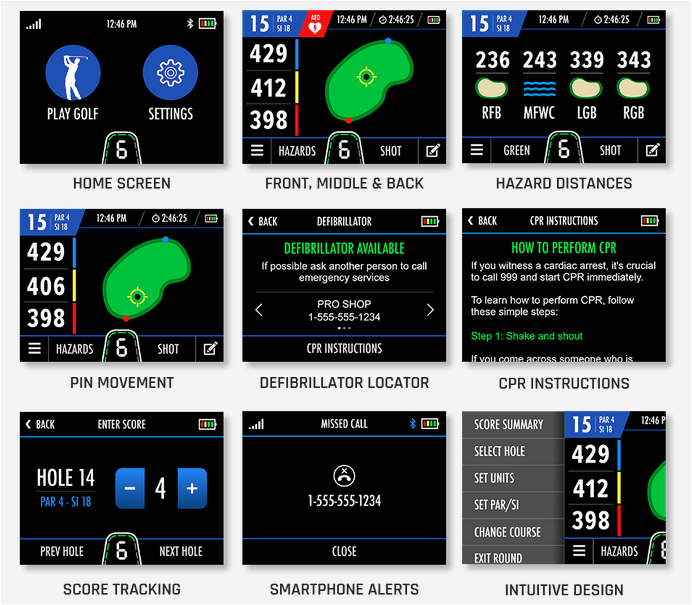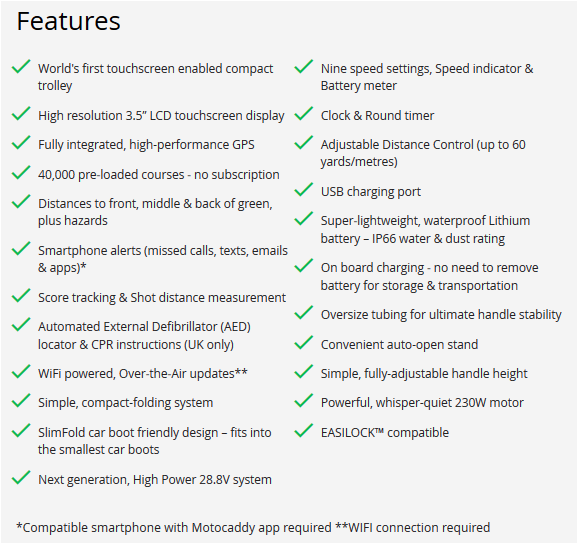 SPECIFICATIONS:
Weight: 25 lbs
Dimensions: 25.6"(L) x 18.5"(W) x 16"(H)
Motor: 230w
Voltage: 28V High Power
Material: Aluminum
MOTOCADDY COMPARISON CHART:

* For M7 and M5 (Display size could vary between 2.8-3.5" based on availability from the manufacture)
---
2019 Motocaddy M1, M3, M5 CONNECT TEST:
2018-19 Motocaddy vs. Powakaddy vs. Stewart Review Video:
Motocaddy Accessory Set Up Video:
Motocaddy Accessory Set Up Video 2:
---
Details
Remote (R) / Non-Remote (N):
(N)
Folded Dim L x W x H inches:
25.6"(L) x 18.5"(W) x 16"(H)
Standard Battery Duration:
18 Holes (optional 36 hole available)
Standard Battery Weight:
5 lbs (Lithium Ion)
Cart Limited Warranty:
2 years
Battery Warranty :
2 years
Remote Capabilities (R, L, F, Reverse):
n/a
Available Accessories:
Drink holder, Scorecard holder, Umbrella holder, GPS cradle, Travel cover, Rain cover, Auto‐open umbrella, Deluxe Seat
Off Power Free wheeling Mode:
Y, release tires from motor
Available Colors:
Black/Graphite
Package Box Dimensions:
Approx. 35x17.5x17 inches
---
Warranty Information
Any warranty covering products sold by Motogolf.com is the warranty provided by the manufacture/distributor of those products. We have provided their warranty information below for your convenience:

Motogolf Return Policy:
No cancellations on special order items once the order has been placed. For order cancellations prior to shipment, we will need to assess a handling & credit card processing fee of 3% which will be deducted from the refund.

Within 30 days of purchase, if a customer has a change of mind the cart can be returned only providing:

o The cart is completely unused and brand new

o It is in original packaging & new/unused condition

o The owner pays the return freight

o A return authority is obtained first from US distributor/manufacturer through Motogolf

o Original shipping fee + handling fee will be deducted from the refund (approx $120)

Within 30 days of purchase, the owners can return a "used cart." Even if used on driveways, backyard, etc... this is not considered new any longer and not saleable as new:

o A return authority is obtained first

o It is in the original packaging

o The owner pays the return freight

o Up to 30% restocking fee applies of the full retail price

The cart will be returned to Distributor/Manufacturer's warehouse and inspected by their personnel. Once we receive the return paperwork along with the condition of unit, we will issue a refund net of fees above.


Motocaddy Product Warranty

The Motocaddy trolley & charger are covered by a 24 month warranty from the date of purchase. The warranty covers manufacturing defects that occur during normal use. Any breakage caused by accidental damage, or as a result of abuse or misuse, are not covered by the warranty. The warranty is not transferable and only covers purchases made in the continental United States.

The Motocaddy Lithium battery is covered by a 5 year pro-rated limited warranty. If the battery fails in the first 24 months it will be replaced free of charge. If the battery fails in the third year the customer will cover 50% of the replacement cost, if it fails in the fourth year 70% of the replacement cost and if it fails in the 5th year 85% of the replacement cost.

If your battery and charger pass our testing or if they have failed due to damage caused by use or abuse, the customer will be responsible for all shipping and handling chargers in the return of the product and there will be no warranty coverage.

All Motocaddy Lead Acid batteries are covered by a six month warranty from the date of purchase.

All Motocaddy accessories are covered for 90 days from date of purchase.
Please retain your sales receipt or packing slip for proof of purchase. We will diagnose the problem and send the replacement part to the customer by FedEx ground or US Mail. Any parts replaced under the warranty, at no charge, do not carry a new warranty.

In the event the customer is unable to replace the part themselves, please retail all the original packaging material to return your trolley for repair. All trolleys must be returned in the original packaging. If you do not have the original packaging material Motocaddy can provide a new box at the customers expense.

In the event a replacement part is needed but not covered by the warranty the customer will be responsible for all costs.

What is the return policy at Motocaddy?
Product may be returned within 30 days of purchase for a full refund, less credit card fees and shipping and handling if the below criteria have been met:
Product must be in original package unused
Product is returned at customer's expense
Customer provides proof of purchase
If Motocaddy determines that the product has been used there will be an additional 25% restocking fee
Once the product has been returned to Motocaddy we will determine if the above criteria have been met. At that time a refund will be issued minus any fees incurred.
Motocaddy is not responsible for any damages to the product during return shipping.
Any product not offered by Motocaddy, and is special ordered, is not returnable.
No returns after 30 days of purchase


Please contact Golf Sellers Direct for any issues related to Motocaddy Carts: 425 N. Industrial Dr. #103, Naperville, IL 60563; (800) 337-7692
---
Write your own product review
Product Reviews
Excellent Electric Cart

Posted by John C.. on 26th Sep 2019

Excellent Company tp do business with. especially, dealing with Ken. The Motocaddy is top notch. The technology package is so user friendly and really adds to the enjoyment of using this car uring my round f golf!. The staff deserves (5*****'s) True story, my golf scores are lower since putting this cart into play! I'm not suggesting that your scores will be lower, but I now have more eneger at the end of my round,thus allowing me to play at a higher level since using this cart!

---

Great so far

Posted by Adriano on 1st May 2019

It has been very good so far. I've been using this cart for 3 weeks now,

---

GPS is Awesome!

Posted by Hwasook on 22nd Mar 2019

I purchased this cart last year and I love the GPS app feature. It gives me the yardage right on the display, it's very compact when folded and it looks great on the golf course. I get many compliments. Received free accessories from Motogolf.com when I bought it. I highly recommend it!

---
---