Motocaddy M7 Lithium Remote Control Golf Caddy
Motocaddy M7 Lithium Remote Control Golf Caddy
SKU: M7
Customer reviews:
Availability: In Stock (Usually ships in 1-2 business days). There may be slight delays due to COVID-19/customs.
Shipping: Calculated at checkout
Product Description
Brand New Motocaddy M7 Lithium Remote Control Electric Golf Caddy Cart Trolley - BUY FROM THE #1 TRUSTED Site for Remote/Non-Remote Control Electric Golf Caddies! (In Business since 2005). Call Us to Learn More about SPECIAL OFFERS! (702) 723-8348.
PLEASE USE THE END OF SUMMER SALE PROMO CODE motocaddy77 for $77 OFF! (Ends 10/9). For a limited time, we are offering the Brand New Motocaddy M7 Lithium Remote Control Golf Caddy for $1,549.00 (MSRP - $1,799.00) with FREE UPGRADE to the Ultra Extended Lithium Battery & FREE SHIPPING to all U.S. customers (excluding AK and HI - we currently do not ship to AK and HI). Includes the Remote, Battery, Charger, and Accessory Station. SPECIAL PROMOTION: For orders placed on or before 10/9, we will also include 4 FREE Accessories: Drink Holder (standard size), Scorecard Holder, Umbrella Holder, Device Cradle - (Over $100.00 Value - ABSOLUTELY FREE!!).

SPECIAL PROMOTION: 4 FREE ACCESSORIES:
DRINK HOLDER, SCORECARD HOLDER, UMBRELLA HOLDER
& DEVICE CRADLE - (Over $100.00 VALUE - ABSOLUTELY FREE!!).





KEY ADVANTAGES:
1. Light-Weight Frame - 28.6 lbs
2. Full Remote Control
3. Motocaddy - UK Brand Quality You Can Trust
4. Compact Folding
5. Downhill Control
6. Powerful Twin 230W Motors
7. Free Wheel Mode
8. USB charging port
9. QUICKFOLD Assembly Mechanism - Fold in 5 seconds
10. FREE UPGRADE to the Larger Ultra Extended Lithium-Ion Battery
11. 360 Degree Front Wheel
12. EASILOCK compatible
13. 2-year Warranty for Trolley and 5 year Prorated for the Lithium Battery
14. Service Center Located in the U.S.

Motocaddy M7 is in stock (Usually ships in 1-2 business days). There may be slight delays due to COVID-19/customs. We only collect taxes from Nevada residents on the purchase of Motocaddy M7 Electric Golf Trolley.
Developed to use the cutting-edge functionality of the powerful M-Series range, the brand new compact-folding M7 REMOTE boasts a rechargeable remote for the ultimate in responsive control.
The first remote control model in the Motocaddy range boasts one of the trolley sector's most sophisticated guidance systems, utilising two motors to provide a combination of power and precision, plus an anti-tip wheel to ensure stability on the most challenging golf course terrains.
Based on the same frame design as the award-winning S-Series range, it comes with a control system that allows golfers to adjust how much the trolley turns to the left or right simply by varying the pressure applied to buttons on the handset. A distance cut-out function stops the trolley from going out of range, while an innovative tilt function helps compensate for the effect of lateral slopes. The advanced electronics also make it possible to switch from remote to manual control if required.
REMOTE - REIMAGINED
Following extensive development and testing, the M7 REMOTE's powerful drive system has been completely redesigned to offer increased reliability, optimised battery efficiency, and instinctive trolley control from your first time behind the wheel.
RESPONSIVE CONTROL
A new-look, rechargeable remote control handset conveniently clips to the trolley frame for easy access and storage. The upgraded handset provides golfers with new ergonomic controls, improving usability and precision when controlling the trolley.
COMPACT FOLDING, SIMPLIFIED
The M7 REMOTE is the newest addition to the award-winning M-Series range. The sophisticated remote control model integrates all the cutting-edge M-Series functionality including the world's simplest folding mechanism, innovative car boot friendly design, high-power 28.8V system, easily-adjustable handle height and over-sized tubing for ultimate trolley stability. It also features a removable rear anti-tip wheel and automatic Downhill Control to traverse undulations with ease.
IDEAL FOR : Golfers looking for a small folding remote model with exceptional control
Starting in 2013, Motocaddy started offering a 5 year limited warranty on the lithium batteries. The first 2 years are covered in full if the battery fails. If the battery fails in the 3rd year, the customer pays 50% of the replacement cost. In the fourth and fifth year, customers are responsible for 70% and 85%, respectively. The Motocaddy Carts come with a 2 year warranty.
Brand New Motocaddy M7 Features:
Rechargeable remote control handset
Forward, left, right & reverse controls

Pause & resume, plus emergency stop

Automatic Downhill Control

Easy manual control mode

Rear anti-tip wheel

50m range cut-out & 120 second hibernation

Remote handset lock function

Simple, compact-folding system


SlimFold car boot friendly design – fits into the smallest car boots

Next generation, High Power 28.8V system

Anti-glare LCD screen (Display size could vary between 2.8-3.5" based on availability from the manufacture)

Nine speed settings, Speed indicator & Battery meter

On screen remote handset battery meter

USB charging port

Super-lightweight, waterproof Lithium battery – IP66 water & dust rating

On board charging – no need to remove battery for storage & transportation

Oversize tubing for ultimate handle stability

Innovative inverting wheels

Convenient auto-open stand

Simple, fully-adjustable handle height


EASILOCK™ compatible

Accessory station is included

The Lithium battery comes with a 5 year prorated warranty

The Motocaddy Carts come with a 2 year warranty

SPECIFICATIONS:
Dimensions: 25.6"(L) x 18.5"(W) x 16.5"(H)
Motor: 2 x 230w Motors
Material: Aluminum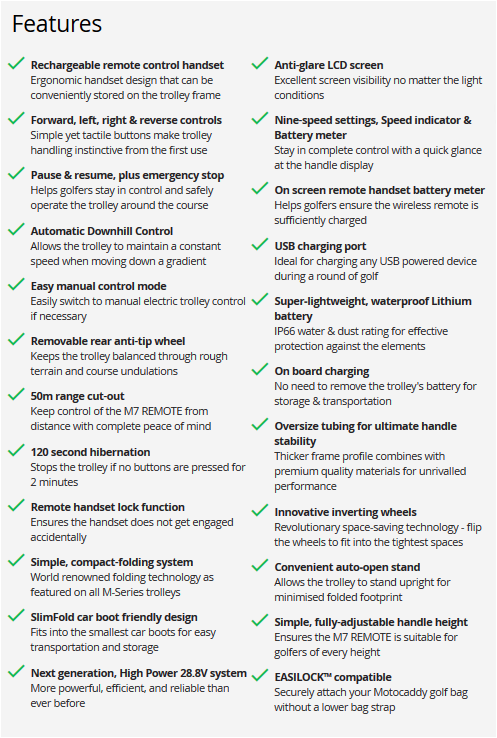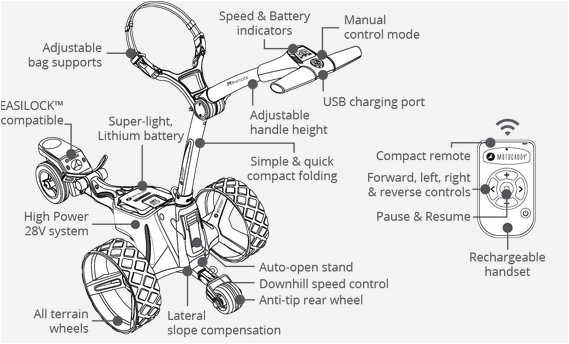 MOTOCADDY COMPARISON CHART:

* For M7 and M5 (Display size could vary between 2.8-3.5" based on availability from the manufacture)
Motocaddy Accessory Set Up Video:
---
Details
Remote (R) / Non-Remote (N):
(R)
Folded Dim L x W x H inches:
Dimensions: 25.6"(L) x 18.5"(W) x 16.5"(H)
Motor:
230 watt dual motors
Cart Limited Warranty:
2 years
Battery Warranty :
5 years prorated
Remote Capabilities (R, L, F, Reverse):
F, L, R, Reverse
Available Accessories:
Wheel covers, Drink holder, Scorecard holder, Umbrella holder, GPS cradle, Travel cover, Rain cover, Auto‐open umbrella, Caddy rack, Winter wheels, Deluxe Seat
Off Power Free wheeling Mode:
Y, release tires from motor
Available Colors:
Black/Graphite
Box Weight & Dimensions:
48 lbs; 30in x 20in x 17in
---
Warranty Information
Any warranty covering products sold by Motogolf.com is the warranty provided by the manufacture/distributor of those products. We have provided their warranty information below for your convenience:

Motogolf Return Policy:
No cancellations on special order items once the order has been placed. For order cancellations prior to shipment, we will need to assess a handling & credit card processing fee of 3% which will be deducted from the refund.

Within 30 days of purchase, if a customer has a change of mind the cart can be returned only providing:

o The cart is completely unused and brand new

o It is in original packaging & new/unused condition

o The owner pays the return freight

o A return authority is obtained first from US distributor/manufacturer through Motogolf

o Original shipping fee + handling fee will be deducted from the refund (approx $120)

Within 30 days of purchase, the owners can return a "used cart." Even if used on driveways, backyard, etc... this is not considered new any longer and not saleable as new:

o A return authority is obtained first

o It is in the original packaging

o The owner pays the return freight

o Up to 30% restocking fee applies of the full retail price

The cart will be returned to Distributor/Manufacturer's warehouse and inspected by their personnel. Once we receive the return paperwork along with the condition of unit, we will issue a refund net of fees above.

Motocaddy Product Warranty

The Motocaddy trolley & charger are covered by a 24 month warranty from the date of purchase. The warranty covers manufacturing defects that occur during normal use. Any breakage caused by accidental damage, or as a result of abuse or misuse, are not covered by the warranty. The warranty is not transferable and only covers purchases made in the continental United States.

The Motocaddy Lithium battery is covered by a 5 year pro-rated limited warranty. If the battery fails in the first 24 months it will be replaced free of charge. If the battery fails in the third year the customer will cover 50% of the replacement cost, if it fails in the fourth year 70% of the replacement cost and if it fails in the 5th year 85% of the replacement cost.

If your battery and charger pass our testing or if they have failed due to damage caused by use or abuse, the customer will be responsible for all shipping and handling chargers in the return of the product and there will be no warranty coverage.

All Motocaddy Lead Acid batteries are covered by a six month warranty from the date of purchase.

All Motocaddy accessories are covered for 90 days from date of purchase.

Please retain your sales receipt or packing slip for proof of purchase. We will diagnose the problem and send the replacement part to the customer by FedEx ground or US Mail. Any parts replaced under the warranty, at no charge, do not carry a new warranty.

In the event the customer is unable to replace the part themselves, please retail all the original packaging material to return your trolley for repair. All trolleys must be returned in the original packaging. If you do not have the original packaging material Motocaddy can provide a new box at the customers expense.

In the event a replacement part is needed but not covered by the warranty the customer will be responsible for all costs.

What is the return policy at Motocaddy?
Product may be returned within 30 days of purchase for a full refund, less credit card fees and shipping and handling if the below criteria have been met:
Product must be in original package unused
Product is returned at customer's expense
Customer provides proof of purchase
If Motocaddy determines that the product has been used there will be an additional 25% restocking fee
Once the product has been returned to Motocaddy we will determine if the above criteria have been met. At that time a refund will be issued minus any fees incurred.
Motocaddy is not responsible for any damages to the product during return shipping.
Any product not offered by Motocaddy, and is special ordered, is not returnable.
No returns after 30 days of purchase
---
Write your own product review
Product Reviews
Showing reviews 1-10 of 17 | Next
Quick delivery...

Posted by Unknown on 9th Jun 2022

Quick delivery of a great product.

---

The entire transaction was smooth...

Posted by Unknown on 7th Jun 2022

The entire transaction was smooth, along with shipping.

---

Excellent customer support..

Posted by Unknown on 5th Jun 2022

Excellent customer support for a wonderful purchase

---

Class act company!

Posted by Unknown on 4th Jun 2022

Class act company! Took my phone call for support multiple times and answered all my questions!! Gave me personal instructions over the phone on operation. Very satisfied

---

absolutely love it!

Posted by Stephanie P on 4th Jun 2022

I ordered the Motocaddy from Motogolf.com - We received the cart in record time and absolutely love it!

---

They were the best!

Posted by Unknown on 3rd Jun 2022

They were the best! I received my order in record time and the price and service were great! Thank you Motogolf!

---

Excellent service !...

Posted by Unknown on 3rd Jun 2022

Excellent service ! Everything from explaining product and options to taking order was great. The cart arrived right on schedule and communication was well done. Thanks for a great experience.

---

Super communication and customer service!

Posted by Unknown on 3rd Jun 2022

Super communication and customer service! The unit even arrived much earlier than originally estimated! Thanks to Jan at MotoGolf!

---

Go with Remote

Posted by Colleen A on 7th Jan 2022

Switched from Motocaddy M3 to the M7 Remote. If I had to do it again, I would go straight to the remote from teh beginning. It's so much easier to walk with a remote and not have to stay with the cart.

---

Highly Recommend

Posted by Greg H on 7th Jan 2022

Works as advertised.

---
Showing reviews 1-10 of 17 | Next
---