Stewart X10 Follow/Remote Control Golf Caddy
Stewart X10 Follow/Remote Control Golf Caddy
SKU: X10 Lithium Follow
Customer reviews:
Availability: In Stock (Usually ships in 1-2 business days). There may be slight delays due to COVID-19).
Shipping: Calculated at checkout
Product Description
PLEASE CALL US ABOUT THE END OF SUMMER SALE PRICE! (Ends 10/9). For a limited time, we are offering the Brand New Stewart X10 Lithium Follow for $2,599.00 (MSRP - $2,799.00), and Stewart X10 Follow Signature Range Model starting at $3,499.00 (MSRP - $3,599.00) with FREE SHIPPING to all U.S. customers (excluding AK and HI - we currently do not ship to AK and HI). Includes Remote, Battery and Charger. We collect tax from NV residents ONLY. SPECIAL PROMOTION: For orders placed on or before 10/9, we will include the Drink Holder, Umbrella Holder, Built-In Scorecard & Ball Holder, Remote Skin plus choice of Insulated Cooler Bag, Rain Cover or Universal GPS/Device Holder (Over $150.00 Value - ABSOLUTELY FREE!!). BONUS PROMOTION: Option to purchase additional accessories (Universal GPS/Device Holder, Travel Bag, Insulated Cooler Bag, Rain Cover) at a discount! The main difference between the X10 Follow and the X10 Follow (Signature Range model) is the color & material on some models (carbon fiber). The only difference between the X9 and X10 is the Logo. If you're interested in the non-Follow version of the X10 - click here.
Stewart X10 (Formerly X9) Lithium Follow Remote Control Electric Golf Caddy Trolley - BUY FROM THE #1 TRUSTED Site for Remote/Non-Remote Control Electric Golf Caddies! (In Business since 2005). Call Us to Learn More about SPECIAL OFFERS! (702) 723-8348.
SPECIAL PROMOTION: DRINK HOLDER, UMBRELLA HOLDER, BUILT-IN SCORECARD & BALL HOLDER & REMOTE SKIN plus CHOICE OF COOLER BAG, RAIN COVER or DEVICE CRADLE - (OVER $150 VALUE - ABSOLUTELY FREE!!)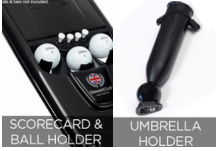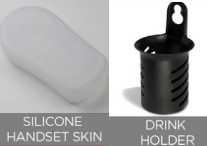 BONUS PROMOTION: OPTION TO PURCHASE ADDITIONAL ACCESSORIES AT A DISCOUNT!!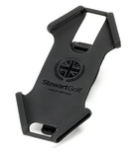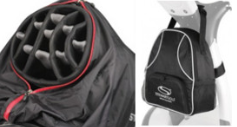 GPS/Phone Holder | Rain Cover | Cooler Bag l Travel Bag

KEY ADVANTAGES:
1. Light-Weight Frame (31.3 lbs)
2. Follow You Option and Remote Control Mode
3. No Button Pushing Required when in Follow Mode
4. Lithium Ion Battery (36 Hole Li Battery Optional)
5. Dependable and Stylish
6. Status Symbol
7. Sleek, Futuristic Design
8. Bluetooth Technology Transfers Signal Instantly for Smoother Control
9. Hand-Built in the UK
10. 2-year Warranty on the Cart and Lithium Battery
11. Service Center Located in the U.S.
Stewart X10 Follow is in stock (Usually ships in 1-2 business days). There may be slight delays due to COVID-19. Once your order ships, you will receive the shipment tracking information via email.
The X10 Follow is the latest generation of the multi-award winning X-Series from Stewart Golf. Originally launched in 2003 as the X1 Remote, the X-Series is recognised as one of the worlds finest remote controlled machines.
The X10 Follow is specifically designed as a Follow golf trolley, but as well as its "Follow" mode, the X10 Follow also comes with full remote control functionality that existing customers will be familiar with.
Brand New Stewart X10 Follow Features:
Follow you mode + Forward, left, right & reverse controls

2 x 190W Motors

50m range with safety cut out.

12v Lithium battery pack complete with soft case.

Multi-function handle with scorecard & ball holder.

Folded Size: 32 inches (L), 12 in (w), 26 in (l)

X10 Remote Weight: 31.3 lbs

Battery Weight: 5.5 lbs

Warranty: 24 months

Accessories included: Drink Holder , Umbrella Holder , Scorecard & Ball Holder and Remote Skin
The new X10 Lithium Follow differs visually from the previous X7 Lithium only by the badge on the back of the machine and the removal of the aerial - the real differences are where you can't see them. Based on the same electronics system as the groundbreaking X10 Follow announced in April of 2015 the new X10 Remote uses the latest in Bluetooth technology to connect the machine to the compact handset.
The accuracy of the new Bluetooth communications system has allowed engineers at Stewart Golf to refine the remote steering even further. Coupled with the increased traction that the new V3 wheels provide, the X10 Remote is now smoother and more responsive than ever.
X10 Lithium Follow Standard Colors
The X10 Remote is available in Metallic Silver, Pearlescent White and Metallic Black.
X10 Follow Signature Range Models (New Colors Available - Special Order Only from the U.K. - 12to 15 weeks lead time - once ordered, no cancelations/refunds)
Electronics and Motors:
British Made

Power: 2 x 190 watts

Speed: 1500-1800 rpm

Ferrite Magnets

Single piece steel body

Aluminium end casings

Replaceable carbon brushes
Dimensions and Weight:
Height: 12 inches

Width: 26 inches

Length: 32 inches

X10 Follow Weight: 31 lbs

Battery & Charger Weight: 5.5 lbs
Gearbox:
British Made

25:1 Ratio

Sealed for life

Steel worm shaft

CNC machined aluminium housing

Cushioned 3-piece coupling

Steel output shaft with 2 ball-bearings

4 way drive
X Series Lithium Battery The new Lithium Phosphate battery has been developed as a true 12V battery, which means that it can be used in any X Series (X1, X3, X5 or X7). There are no electronics changes or adjustments necessary; you can just start using the new Lithium battery as a direct replacement.
The battery is protected by a sophisticated battery management system that constantly monitors every cell to ensure the battery is always optimised for best performance and life. It is supplied with complete with battery lead and protective neoprene case. It is also supplied with a specially developed battery charger which will help keep the battery in top condition.
We only collect taxes from Nevada residents on the purchase of the Stewart Remote Control Golf Trolley and your order usually ships within 1-2 business days of receipt of payment.
The compact handset allows you to move the machine forwards, reverse, faster, slower, left and right from up to 50 yards away. You can also program up to 4 walking speeds in to the handset, designed to allow the X10 Remote to resume your ideal speed at the touch of a single button.
By removing the stress and strain of having to constantly lift or push / pull your clubs your muscle activtiy when using a remote controlled trolley will be reduced. As a result your muscles will fatique slower as they are not being used as regulalry meaning you have a better chance of maintaining higher levels of performance on the golf for longer periods of time. This hypothesis supports our recent survey results, which found that customers who previously carried their golf clubs and have now switched to using a Stewart Golf trolley, have improved their golf game handicap on average by 3.6 strokes.
How It Works
The Follow system
In addition to the bluetooth electronics system, there are two further antennas that power the X10 Follow.
Mounted on each of the rear motors, the two antennas work together to create two zones; a neutral zone and an active zone.
When the handset is inside the neutral zone, the X10 Follow will remain stationary. As the handset enters the active zone, the X10 Follow's electronics system will automatically & independently alter the speed of each rear motor to keep its pace. When the golfer (and therefore the handset) come to a stop, the X10 Follow will continue until the handset is back inside the neutral zone when it will also stop. The effect is that of digital elastic band, which stretches and contracts as you walk.
Practically the system is designed to be as user friendly as possible, so use is as simple as:

Press the green 'follow' button and walk in front of the X10 Follow. The machine will fall in behind you and keep your walking pace.

When you reach your ball & stop, the X10 Follow will also stop.

Put the handset on the cradle, select your club and take your shot.

Replace your club, put the handset back on your back pocket/belt and resume walking.

The X10 Follow will again pick up your pace.

If you stop for any reason (such as to let another player take a shot), the X10 Follow will stop behind you automatically. When you are ready, just start walking again and the X10 Follow will start again automatically.
Remote mode
When you are approaching the tee or finding your ball in the long grass you may want to switch your X10 Follow into remote mode so you can send it off in your desired direction.
To switch to remote mode all you have to do is press any of the directional buttons on the handset and full remote control functionality will be available. From up to 50m you can speed the machine up and down, steer it left or right and stop it using either the orange 'glide stop' or red 'emergency stop' buttons. If you prefer to have the machine in front of you sometimes, you have the option of setting two 'cruise control' speeds to suit your walking pace.
Once you are back in the Active Zone, you can switch back to Follow mode by pressing the green Follow button.
Manual mode
In car parks or on paths, place the handset onto the cradle and set the trolley to travel at a constant speed by pressing either the forward button or one of the programmable cruise control buttons.
Using this method of steering over Remote or Follow will give you greater control over the trolley, ensuring you avoid any accidental collisions.
Bluetooth Technology
The X10 Follow uses the very latest in Bluetooth technology, as built into billions of products all over the world. Bluetooth provides an extremely stable platform from which to send and receive signals from the trolley to the handset.
Each X10 Follow comes with a handset already 'paired' to one another, meaning that you only have to turn them both on and they will connect automatically. Once the connection is made, it remains connected for the duration of your round. This means that signals are sent instantly and reliably, you won't be waiting for a connection every time.
Rechargeable Lithium Handset
Another convenient feature of the X10 Follow is the new rechargeable handset.

Our engineers have kept the same compact handset case, but integrated a large lithium battery. This is charged via a new port on the right hand side (a charger is supplied). Whilst we recommend that the handset is charged after every round, the lithium battery means that you won't have to replace the handset battery for many years.
Complete Remote Functionality
The X10 Follow also has complete remote control functionality, similar to previous X Series models. This is ideal for when you find yourself in the rough, or when you reach the green and want to send your X10 Follow to the next tee.

From up to 50m you can speed the machine up and down, steer it left or right and stop it using either the orange 'glide stop' or red 'emergency stop' buttons. If you prefer to have the machine in front of you sometimes, you have the option of setting two 'cruise control' speeds to suit your walking pace.
Downhill Braking
The X10 Follow will automatically apply a braking force if you slow your pace when going down a hill.
Integrated Stabiliser
The X Series chassis has been proven to be the most stable on the market after more than a decade of use since the original X1.

As well as a wide rear wheelbase and twin front wheels, the chassis also contains an integrated stabiliser. Should the X10 Follow tip backwards when travelling up hill, it will 'bounce' on the stabiliser until it makes it back on to all 4 wheels. If the ground is damp or wet, the rear wheels may lose traction and you may need to assist from the handle.
V3 Wheel Set
The X10 Follow is supplied as standard with the V3 wheel set.

These wheels were created with the X10 Follow in mind; the lateral tread pattern generating excellent levels of grip that allow the X10 Follow's electronics system to make very fine steering adjustments.

When compared to the previous alloy wheel design, the V3 rear wheels have a flatter profile which increase stability dramatically. Additionally as a set of 4 wheels, weight has been reduced by 30% which increases efficiency and therefore battery life.
Other Features
The X10 Follow comes complete with the whole host of other features including:
Towel Clip

Scorecard Holder & Pencil Clip

Three golf ball holders

Four tee holders

Unique serial number plaque

Adjustable handset cradle

Integrated rear stabiliser

Lithium Battery & Charger

Anti-rotation bag straps

Quick release strap handles
3 Modes of Operation:
Why Stewart X10 Follow:
Stewart X10 Follow Video User Guide:
Golf Monthly Test the Stewart Golf X10 Follow
2018 Motocaddy vs. Powakaddy vs. Stewart Review Video:
<
The problem with the question is that 18 holes is not a reliable measurement, more a 'how long is a piece of string' sort of question. 18 holes can mean 5000 yards on a flat course with a light bag, or 8500 yards on a very hilly course on a wet day with 500 yard walk between holes and a fully loaded golf bag. The battery supplied with your Stewart is guaranteed to last for 18 holes in a 'worst case' scenario as described above. We know from our own experience (and those of our customers) that it is wholly possible that you can complete more than 18 holes with your battery (over 36 in some cases), however if you regularly play more than 18 holes in one day then we recommend that you purchase an additional battery.
There are lots of ways that you can conserve battery power on the golf course:
Try to drive the trolley in as straight a line as possible and don't 'zig-zag' up the fairways.

Use as light a bag as possible.

If you are playing a long days golf and only have one battery, you can save a significant amount of energy by using the steering function sparingly and instead steering the Stewart like a conventional trolley by using the handle.

Don't let the Stewart 'drag' you up hills as this will increase power consumption.

Try to keep the Stewart on the short grass of a fairway, rather than the longer grass of the rough.
FAQ
Q: Can you make the trolley go in front rather than behind?
A: No. When you lead, the patent-pending electronics system within the X10 Follow knows where you (or more accurately, the handset) is, and therefore where to go. If the trolley was in front of you, how would it know where to go next?
Q: What happens if you walk too close to a lake/bunker/edge of a bridge.
A: The X10 Follow does not have any external sensors to look for danger, so there is every chance it could get wet/sandy/damaged if used inappropriately. When you're out on the golf course, it's up to you to choose whether to steer manually using the handle, use the remote control function or the follow mode. It's a bit like using cruise control on your car. It's perfect for a motorway but not so useful in town or a car park. Ultimately you are in control of the machine.
Q: Why does the handset need to go on my back pocket or belt?
A: The X10 Follow's control system follows the handset, not the golfer. If the handset is kept in the golfer's hand or placed in a front pocket, it's motion swings back and forth. This 'back & forth' motion will cause the X10 Follow to accelerate and brake accordingly. If the handset is on a back pocket or belt, it's motion will be smoother, and therefore the X10 Follow's motion will be smoother.
Q: Will the X10 Follow keep up if I run?
A: As shown in the video, the 'Active Zone' has a radius of about 5m. The X10 Follow has a top speed of approximately 6mph, so if you run faster than that you will eventually leave the 'Active Zone' and the X10 Follow will stop as it does not know where to go next.
Q: Is there an app that I can use to control the X10 Follow?
A: Because of the use of Bluetooth technology, it is possible to design a smartphone app to control the X10 Follow. However at the moment, one does not exist.
Q: Can I activate the follow mode from 50m and have the X10 Follow find me?
A: No, you can only activate the follow mode from inside the Neutral Zone.
Q: Will the battery last for 36 holes?
A: The battery for the X10 Follow is guaranteed for 18 holes, and in many cases will do many more.
We are not able to guarantee any battery for 36 holes for the following reasons:
18 holes of golf is not a finite measurement. There can be a difference of several miles from a short to a long course (taking the distance between green and tee in to account too).

Terrain, ground condition, bag weight, and a number of other factors can make a big difference. Imagine running along a flat concrete road as opposed to up a steep sand dune & you'll get the idea.

The quality of the golf also affects how far you walk. A golfer shooting 65 will walk a lot less than a golfer shooting 110 and zig-zagging up the fairways! This scenario would also see the steering being used more, which also consumes more power.
Many customers have completed 36 holes with their trolleys on a single charge, however if you play 36 on a regular basis we recommend that you purchase an additional battery pack.
---
Details
Remote (R) / Non-Remote (N):
Folded Dimensions ( L x W x H ):
32x26x12
Standard Battery Duration:
18 Holes
Standard Battery Weight:
5.5 lbs
Battery Type:
12V 22Ah Lithium
Cart Limited Warranty:
2 years
Battery & Charger Warranty:
1 year
Remote Capabilities:
F, R, L, Reverse
Available Accessories:
Stewart golf tour bag, Personalized plaque, Additional battery
Off Power Free wheeling Mode:
Y, release tires from motor
Tires:
Titanium alloy wheels, Rubber
Available Colors:
Black, Silver, White
Box Dimensions (inches) / Weight:
32 x 26 x 14 / 50 lbs
---
Warranty Information
Any warranty covering products sold by Motogolf.com is the warranty provided by the manufacture/distributor of those products. We have provided their warranty information below for your convenience:

Motogolf Return Policy:
No cancellations on special order items once the order has been placed. For order cancellations prior to shipment, we will need to assess a handling & credit card processing fee of 3% which will be deducted from the refund.

Within 30 days of purchase, if a customer has a change of mind the cart can be returned only providing:

o The cart is completely unused and brand new

o It is in original packaging & new/unused condition

o The owner pays the return freight

o A return authority is obtained first from US distributor/manufacturer through Motogolf

o Original shipping fee + handling fee will be deducted from the refund (approx $120)

Within 30 days of purchase, the owners can return a "used cart." Even if used on driveways, backyard, etc... this is not considered new any longer and not saleable as new:

o A return authority is obtained first

o It is in the original packaging

o The owner pays the return freight

o Up to 30% restocking fee applies of the full retail price

The cart will be returned to Distributor/Manufacturer's warehouse and inspected by their personnel. Once we receive the return paperwork along with the condition of unit, we will issue a refund net of fees above.

Stewart Policy:
Whilst we work tirelessly to ensure that there are no problems with our products, as with all things mechanical, sometimes they can go wrong.

Should you suffer any problems caused by faulty materials or workmanship with your Stewart Golf Cart within the 2 year warranty period then all you have to do is call us.

Full warranty terms and conditions are of course supplied with the Stewart Golf Cart.

What is the return policy at Stewart Golf?
Product may be returned within 30 days of purchase for a full refund, less credit card fees and shipping and handling if the below criteria have been met:
Product must be in original package unused
Product is returned at customer's expense
Customer provides proof of purchase
If Stewart Golf determines that the product has been used there will be an additional 25% restocking fee
Once the product has been returned to Stewart Golf we will determine if the above criteria have been met. At that time a refund will be issued minus any fees incurred.
Stewart Golf is not responsible for any damages to the product during return shipping.
Any product not offered by Stewart Golf, and is special ordered, is not returnable.
No returns after 30 days of purchase

Stewart Golf Product Warranty

The Stewart Golf trolley and charger are covered by a 24 month warranty from the date of purchase. The warranty covers manufacturing defects that occur during normal use. Any breakage caused by accidental damage, or as a result of abuse or misuse, are not covered by the warranty. The warranty is not transferable and only covers purchases made in the continental United States.

The Stewart Golf Lithium battery is covered by a 24 month warranty. If the battery fails in the first 24 months it will be replaced free of charge.

All Stewart Golf accessories are covered for 90 days from date of purchase.

Please retain your sales receipt or packing slip for proof of purchase. We will diagnose the problem and send the replacement part to the customer by FedEx ground or US Mail. Any parts replaced under the warranty, at no charge, do not carry a new warranty.

In the event the customer is unable to replace the part themselves, please retail all the original packaging material to return your trolley for repair. All trolleys must be returned in the original packaging. If you do not have the original packaging material Stewart Golf can provide a new box at the customers expense.

In the event a replacement part is needed but not covered by the warranty the customer will be responsible for all costs.
---
Write your own product review
Product Reviews
Showing reviews 1-10 of 29 | Next
Outstanding product...

Posted by Unknown on 9th Jun 2022

Outstanding product and support material. Packaging and shipping was excellent.

---

Motogolf shipped as expected and on time...

Posted by Unknown on 7th Jun 2022

Motogolf shipped as expected and on time. Great customer service and fabulous product. I never was in doubt about the product's shipping or time of arrival. Great company to deal with and I would definitely shop there again.❤️❤️

---

A great experience...

Posted by Unknown on 4th Jun 2022

A great experience. A very helpful worker who answered all my queries and concerns. I think it's a top-notch company! I only wish I could remember the fellow who served me, so I could give him proper kudos!

---

Great product...

Posted by Unknown on 4th Jun 2022

Fast delivery. Great product.

---

Could not be happier

Posted by Unknown on 3rd Jun 2022

I got the product in a timely fashion and I could not be happier

---

Great product better service

Posted by Allen S on 8th May 2020

The X9 follow is fantastic. I replaced a non-remote caddy with the X9 Follow. The caddy is all that that it has been described. There is very little learning curve. I had a minor delivery issue and I found the service by Motogolf to be phenomenal. Jan in customer service resolved my issue immediately. All of the great comments about Motogolf are true. Thank you Jan and Motogolf

---

Thank you!

Posted by Charles M on 19th Jul 2019

"Thank you so much for the prompt reply to my messages and questions!"

---

Wow that was Fast!!!!

Posted by Jimmy D on 1st May 2019

Wow that was Fast!!!!

---

Very Very Impressive

Posted by Neil S on 16th Apr 2019

Yes this is expensive but it really makes playing golf a pleasure and even more fun.
All the standard features are excellent but the follow feature is very special. On the fairway it so relaxing walking along and talking to your partner knowing that your trolley is following faithfully behind.
If this product proves durable ( which it should for the price ) then I will be absolutely delighted with the purchase.

---

Love it Love it!

Posted by Warren C on 16th Apr 2019

Even my worst shots are forgot the moment my X9 follow springs to life.

Adds a whole new dimension of fun to a game I already love.

Every self respecting gadget freak has got to get one.

---
Showing reviews 1-10 of 29 | Next
---